5 Easy & Effective Tick Control Tips For Suffolk Property Owners
August 14, 2020
Parasites of the worst degree, these backyard vampires are leeches of all you own: your yard, your garden, and even your blood.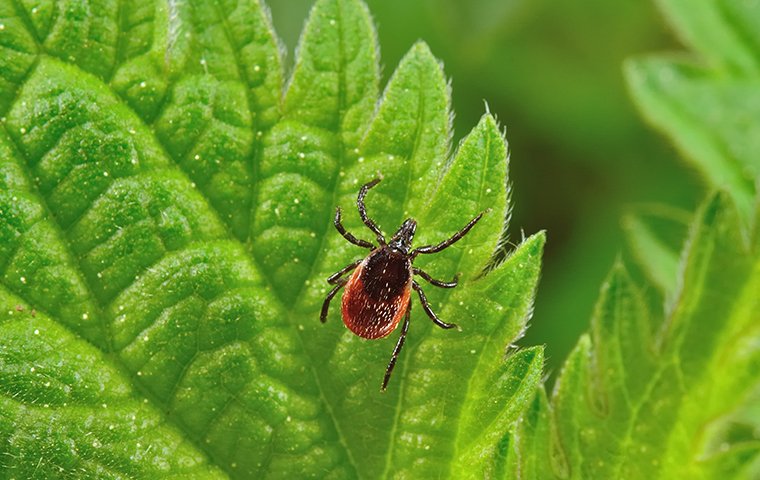 Ticks are a dangerous species of arachnid here in the Eastern United States. Some of the ticks common to Suffolk include:
Blacklegged ticks

Lone star ticks

American dog ticks

Asian longhorned ticks
Ticks love to hang out in the less populated areas of your lawn, hiding in the shrubbery of thick vegetation, overgrown weeds, and tall grasses. By waving their arms around in a characteristic pattern known as 'questing,' ticks grab onto a warm-blooded host to feed. Ticks will embed their heads into the choicest areas of flesh, gorging themselves on blood until their bodies have sufficiently swelled. Once engorged, the tick will pop off, sneak back into hiding, and ingest their meal until they are ready to feed again.
Of course, any insect that feeds on human blood has the potential to spread serious diseases from place to place. Tick species are by far the worst of the lot. A short list of tick-borne diseases one might come across in Virginia include:
Lyme Disease

Anaplasmosis

B. miyamotoi disease

Ehrlichiosis

Babesiosis

Powassan virus

Rocky Mountain spotted fever

Tularemia
Although a tick bite is not necessarily a death sentence, it is unwise to maintain a large population of them within a lawn or backyard. Especially during the height of the summer, homeowners should be cautious to protect themselves and their loved ones from tick activity and illness.
5 Prevention Tips For Ticks Around Your Suffolk Yard
Ticks may be difficult to remove, but they aren't impossible to kill. The following prevention tips, when properly enacted, will help to discourage an ongoing tick presence and the wildlife hosts that carry them
Ticks are fans of lush undergrowth, including tall grasses, shrubs, and even unpruned tree branches. Attack these harborage zones with a vengeance by pruning, cutting, and otherwise maintaining the integrity of your lawn.

Don't allow plants to grow too close to the sides of the home. Not only may they harbor ticks, but they may bring wildlife hosts such as deer much too close to comfort. If you are looking for more maintainable vegetation, trying planting wildlife-resistant varieties at least 4-5 feet from the home.

Install a 1 – 2 foot barrier between all wooded spaces and the home. Pea gravel and river rock are often preferred for this purpose.

Store wildlife attracting items, such as dog food and birdseed, out of sight and in a controlled environment.

Wear long-sleeved clothing while outdoors and keep socks pulled up over your pant legs when in areas that may house ticks.
If you aren't sure where ticks could be harboring in the yard, your next step will be to receive a professional evaluation through service agents trained to identify pest patterns. Get your complimentary tick inspection through Hometown Pest Control's pest-sperts today.
Get Ongoing Professional Help With Hometown Pest Control
The final and most effective tick prevention tip is to engage ongoing professional help through Hometown Pest Control. For over two decades, our team of dedicated pest professionals has been eliminating tick problems across homes and hometowns like Suffolk – affordably, competently, and always with a friendly smile.
When you're ready to get to the bottom of your tick problem, don't hesitate to reach out to the tick terminators at Hometown Pest Control today. If you are more comfortable connecting with us online, fill out the contact form and speak with a virtual agent as soon as possible. For fast relief from ticks and other types of lawn pests, trust Hometown Pest Control for the active summer months and beyond. Schedule pest control services in Suffolk today!