Everything You Need To Know About The Ticks That Inhabit Suffolk
August 15, 2022
While ticks are often a worry in wooded areas, you might be surprised to hear that they can also threaten your property. A small bug that can cause lifelong health issues, the tick is one pest you need to watch out for, especially in Virginia, where Lyme disease has been on the increase in recent years.
If you are dealing with a tick problem, it is time to learn about the conditions they can spread, find out if they can make pets sick, and discover how to remove an attached tick and an infestation safely and permanently. Hometown Pest Control provides pest control in Suffolk to rely upon if you have spotted ticks on your property.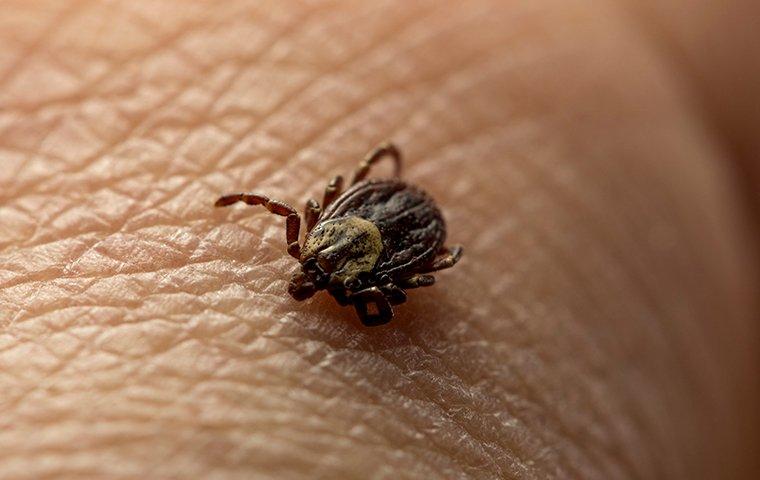 Can Ticks Spread Disease?
When it comes to spreading diseases, ticks are one of the worst offenders. The list of diseases that ticks in Virginia can transmit includes the following:
Lyme disease is an infection that can attack the nervous system.
Rocky Mountain spotted fever is a potentially deadly bacterial disease.
Anaplasmosis is a bacterial disease that can cause kidney failure.
Tularemia can cause inflammation of the spinal cord, heart, and liver.
If you suspect that a tick has bitten you, seek medical help immediately, as some of these diseases can cause long-term health issues. Read on to learn if these diseases can affect pets.
Can My Pets Get Diseases From Ticks?
There are many diseases that tick bites can transmit to pets, including Lyme disease, Rocky Mountain spotted fever, ehrlichiosis, tick paralysis, babesiosis, bartonellosis, and hepatozoonosis.
Because it can be challenging to spot a tick on a pet's body due to the presence of fur, it is essential to check your dogs and cats for attached ticks regularly. If contaminated, your pets might exhibit stiff or painful joints, diarrhea and vomiting, fever, and more.
If a tick might have bitten your pet and they are exhibiting concerning symptoms, reach out to your veterinarian as soon as possible.
How Can I Properly Remove A Tick?
According to the CDC, the following tips can help you remove a tick safely and adequately:
Do not use your fingers to pull out a tick; instead, use clean tweezers.
Don't try to remove the tick using sudden movements, but rather pull it upward without squeezing it too hard. You want to remove the entire tick and avoid breaking off the mouthparts.
Disinfect the skin and bite area with rubbing alcohol.
Do not touch the tick, and do not attempt to kill it by crushing it. Instead, put it in alcohol or flush it down the toilet.
You might be infected if you had to remove a tick from your body by one of the many diseases they can transmit. A medical professional can help you determine this and discuss your treatment options.
How Can I Remove A Tick Infestation Permanently?
The best way to get rid of a tick infestation permanently is to rely on the help of a pest control company with the expertise and experience needed to tackle an infestation safely. From tick insecticides and pesticides, without forgetting natural tick prevention methods, our licensed technicians can help you put your infestation behind you for good with the most effective and up-to-date tick extermination services.
Ticks are dangerous pests that transmit life-threatening diseases to humans and pets alike. If you are struggling with an infestation in Suffolk, Hometown Pest Control can help you get rid of ticks safely and permanently.