Suffolk Homeowners' Handy Guide To Odorous House Ant Control
May 14, 2021
It's always disappointing to discover an ant infestation in your home, and while there are worse ants to infest than odorous house ants, they're still quite the nuisance. They don't bite, and they won't destroy the structure of your Suffolk home, but they will invade your pantry and contaminate your hard-earned food stores. Fortunately, these ants are the most common to invade. Unfortunately, they're tough to remove on your own.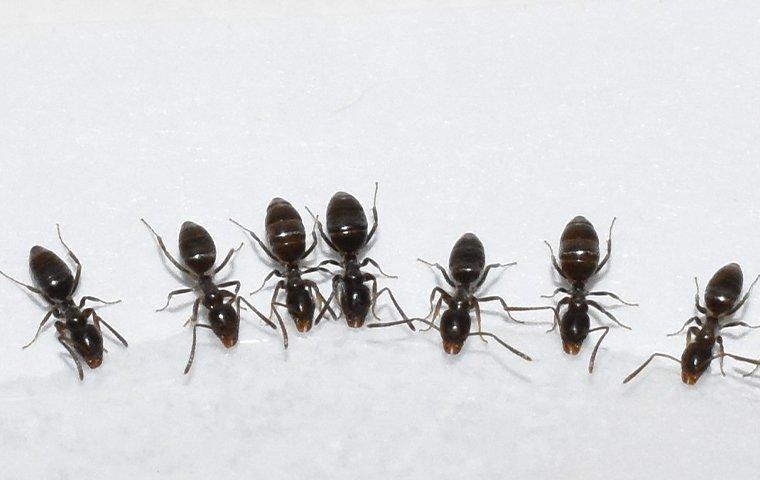 The Stinky Signs Of Odorous House Ants, And What Attracts Them
Measuring in at 1/16th to 1/8th of an inch long, odorous house ants are one of the smallest ant species in the United States. They range from dark brown to black in color and, staying true to their common name, these ants pack a powerful punch to the nostrils. They emit an odor often described as rotten coconut when they're crushed. These pests aren't sneaky in the slightest; within their neat little lines, they'll forage day and night to fill their nests with delectable morsels, so discovering an infestation won't be difficult.
You might be wondering what would attract such a minuscule menace into your Suffolk home, and the answer is relatively simple. Like most ants, odorous house ants are attracted to warmth, excessive moisture, and a variety of different foods:
Sugars and sweets

Pastries

Fruits and juices

Raw and cooked vegetables

Grease and greasy foods

Meats and proteins

Milk and dairy products
How Can I Protect My Suffolk Home From An Odorous House Ant Infestation?
There are plenty of precautionary measures to take in order to prevent an infestation, and taking the time to clean up food spills and the residue is one of the most important steps. Food spills happen daily in every household, so keeping a routine of wiping down counters, sweeping, mopping, and vacuuming is crucial to stay pest-free.
Regular household maintenance is also very important. With the incredibly small stature of these insects, a crack no bigger than a pinhole is a big enough entryway for odorous house ants. Common entry points for ants include:
Windows and doors with poor insulation

Cracks in the outer foundation

Gaps between outdoor-leading pipes and wires

Loose shingles

Outer walls and wood floors that have sustained excessive water damage

Branches, shrubs, and garden plants touching the exterior siding of the home

Entryways created by other pests such as termites, carpenter ants, and rodents
Investing in the minor upkeep of your Suffolk home is imperative to keeping pests out. If you find that some of the rooms in your household more moisture, such as the bathroom, kitchen, and laundry room, you might want to consider purchasing a dehumidifier. Be sure to patch up any holes and cracks in your walls, seal the gaps around pipes and wires, and regularly check the integrity of your window and door frame insulation.
DIY Pest Control VS. Professional Pest Control
When it comes to an odorous ant infestation, you might think that store-bought pest control products are enough to get rid of your problem, but in most cases, they could actually cause more problems than before. The odorous house ant species often contain more than one reproductive queen within a nest, and if you startle a colony, it could motivate them to branch out and create an even worse infestation. Not only that, but most store-bought pesticides contain harmful chemicals to humans and animals. If you're staring down an infestation, don't hesitate to call in the professionals.
At Hometown Pest Control, your health and safety are our top priority. As a family-owned business with over two decades of experience under our belt, we know that your home and loved ones are what's most important to you. We offer fast, affordable services, free inspections, organic and eco-friendly pest treatment options, and our 100% satisfaction guarantee; if you continue to experience pest problems after we've treated your Suffolk home, we'll return and re-treat your home at no additional cost! Get in contact with us today to start discussing our pest control options. We're looking forward to working for you!