Professional Moisture Control For Chesapeake, Suffolk, Portsmouth, & Norfolk, Virginia
When it comes to homes and businesses, some areas are more prone to moisture build-up than others. For example, areas like crawl spaces, attics, and basements often become high in humidity with no place for the moisture to escape, which can cause multiple issues for your home over time. In fact, moisture is like a beacon for pests of all kinds, signaling to them that they've found a good place to set up shop. In addition, having excess moisture levels will cause wooden structures to rot, which not only damages the structural integrity of your home, but also makes it easier for wood-destroying insects like termites to find their way inside, causing even more structural damage.
However, these aren't the only problems caused by moisture. Higher levels of moisture and humidity also leads to mildew and mold problems which can be extremely dangerous to your health, not to mention damaging to the structure of your home or business. While the moisture in some places such as bathrooms can be fairly easily controlled through the use of vents, cross-ventilation, and dehumidifiers, other areas are not so easily helped. That's where Four Seasons|HomeTown Pest Control comes in!
The Quality Solution To Excess Moisture!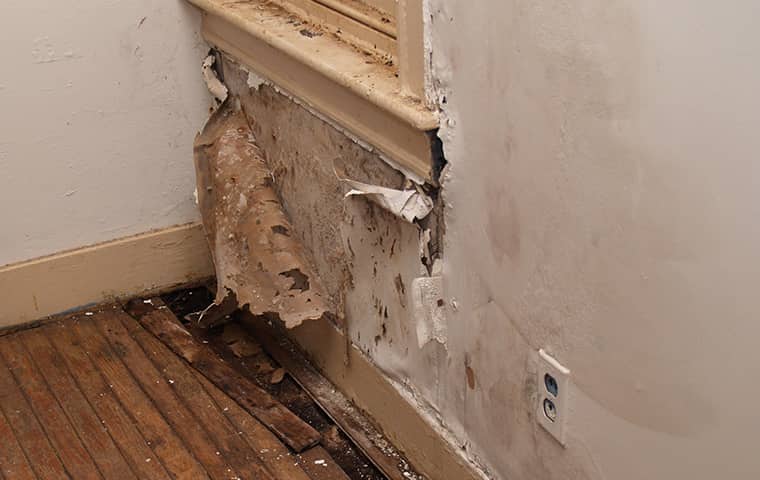 Here at Four Seasons | HomeTown Pest Control, we provide dehumidification system installation and maintenance for those hard to access areas that are at risk for moisture problems such as attics, basements, and crawlspaces.
Conducting An Initial Inspection
Before proceeding with the moisture control treatment, we'll first inspect the area to come up with a treatment plan specific to your particular needs.
Developing A Customized Moisture Control Plan
After we've completed our initial inspection, we then install the dehumidification system. Depending on the extent of the moisture problem in the area where the system is being installed, this service may include any or all of the following:
Professional crawlspace clean-out services to prepare for installation.

Repair services to resolve any moisture or water damages present.

Quality treatments used to eliminate fungus and mold problems caused by excess moisture.

Installation of a vapor barrier and/or dehumidification system to reduce humidity and provide a long-lasting solution to moisture problems.

Sealing the areas around the vents in your home or business to help eliminate humidity allowed inside by air leaks which contribute to moisture problems.
Performing Follow-Up Service Visits
After installation, we'll return every six months during the first year to perform a moisture check and ensure that our treatments are effective. This system is warrantied for one year with the option to extend for an additional year at no additional charge. In addition, this extended warranty also includes moisture checks every six months.
Protect Your Home Against Moisture Problems With Four Seasons | HomeTown Pest Control!
From pests to mold, having excess moisture in or under your home is never a good thing. To keep that moisture under control, consider installing a dehumidification system from Four Seasons | HomeTown Pest Control. When you invest in our moisture control services in Norfolk, VA, you'll never have to worry if your home or business is at risk of moisture damage or the subsequent problems that follow. Reach out to us for more information on our moisture services or to learn more about our home pest control and commercial pest control services!
Request Your Free Inspection
Complete the form below to schedule your no obligation inspection.