Effective & Affordable Pest Control Solutions For Outer Banks, NC Homes & Businesses
Located off the coast of North Carolina is the Outer Banks, a string of barrier islands and peninsulas that cover most of the North Carolina coastline and separates the Atlantic Ocean from the mainland. The shipwreck diving locations and open sea beaches make our area of North Carolina a popular destination for holiday retreats and summer vacations. With its beautiful ocean views and coastal charm, many residents enjoy long sandy walks on the beach and daily life next to crashing waves of the Outer Banks.
However, even with our distance from the mainland, the Outer Banks still make the perfect home for a wide variety of common North Carolina pests including ants, bed bugs, cockroaches, mice, rats, spiders, and many more. At Four Seasons Pest Control, we provide effective and affordable pest control services for local homes and businesses in our Outer Banks service areas. To protect your residential or commercial property from pest pressures, reach out to us at Four Seasons to request an inspection!
Four Seasons Pest Control - Our Northeastern North Carolina Service Area
Avon
Aydlett
Barco
Buxton
Carova
Coinjock
Columbia
Corolla
Currituck
Duck
Edenton
Elizabeth City
Frisco
Grandy
Harbinger
Hatteras
Hertford
Jarvisburg
Kill Devil Hills
Kitty Hawk
Knotts Island
Manteo
Maple
Moyock
Nags Head
Ocracoke
Point Harbor
Poplar Branch
Powells Point
Rodanthe
Salvo
Shawboro
Shiloh
Sligo
South Mills
Southern Shores
Wanchese
Waves
Professional NC Home Pest Control Solutions
At Four Seasons Pest Control, we've been dedicated to protecting homes and families in our community from pests since 2001, making us a trusted and experienced pest control provider in northeastern North Carolina. Through hard work, experience, and keeping up with the most advanced pest management techniques and methods, we are always striving to improve our services and provide the best pest protection available for Outer Banks homeowners.
We offer a wide range of customizable home pest control services and products to suit your pest control needs including eco-friendly and pet-friendly pest control products. In addition, all of our pest control products work to eliminate invading pests both quickly and effectively. So whether you're looking for ongoing pest management or a one-time service, we've got you covered!
In addition to our home pest control treatments, we also offer:
Thorough pest control inspections

Schedules follow-up service visits
We use Integrated Pest Management (IPM) techniques geared towards solving your pest problems in the long term instead of simply treating the symptoms. If you continue experiencing pest problems after our initial treatment, we'll return to re-treat your property for free. To learn more about our residential pest management, give us a call today!
Trusted Bed Bug Control Solutions For The Outer Banks Area Of North Carolina
So you've heard your friend from across the street has recently found bed bugs in their home and you don't want to be the next Outer Banks homeowner to find these parasitic pests on your own property, so what can you do? The unfortunate reality is that bed bugs are difficult to prevent and treat once you have them. However, even though bed bug prevention is difficult to achieve, you can significantly lower your probability of getting a bed bug infestation with our professional bed bug control plans.
Here at Four Seasons Pest Control, we offer three varying levels of bed bug protection to meet your specific bed bug control needs: our Seasonal Bed Bug Control Plan, our Proactive Bed Bug Control Plan, and our Proactive Bed Bug Control Plan With Protection. Each of these three plans comes with different levels of bed bug protection.
Seasonal Bed Bug Control Plan
With this plan, you'll receive pre-season and post-season bed bug inspections. For this bed bug control option, we'll come to your property at the beginning and the end of the season to perform a thorough inspection of your home for bed bug activity and make sure that there are no bed bugs hiding away within the walls of your home.
Proactive Bed Bug Control Plan
For our Proactive Bed Bug Control Plan, we'll perform regular bed bug inspections throughout the year. This approach ensures that if at some point you end up with bed bugs in your home, we'll discover them before they have a chance to grow their populations and spread from a localized area into other areas of your home.
Proactive Bed Bug Control Plan With Protection
Including all the benefits of our Proactive Plan, this plan provides you with the option to add on a bed bug control treatment at a small additional fee if bed bugs are found during your inspection. Our treatment includes mattress encasement and treatment for bed bug hot spots. We'll then follow up with an inspection seven to ten days after treatment to make sure there are no bed bugs remaining. If we missed any, we'll perform another treatment to ensure your bed bug problem is resolved at no additional charge!
Quality Commercial Pest Control Services For NC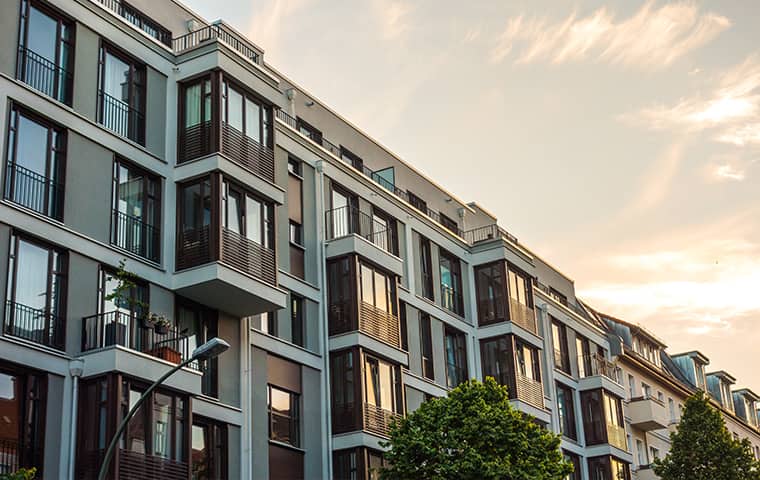 When it comes to Outer Banks businesses, there should definitely be a zero-tolerance policy for any pest infestations. After all, if even one customer spots a mouse or similar pest in your restaurant, your reputation in the food industry could hit rock bottom. If you own a school system or doctors office, having pests in your commercial facility means potential health threats for anyone who visits.
If you want to avoid negative reviews from your customers, your best option when it comes to dealing with pest infestations is to contact a licensed pest control provider like the team here at Four Seasons Pest Control! We deal with a variety of business-invading pests including ants, cockroaches, rodents, and more so you can focus on the needs of your business and your customers.
Our Commercial Pest Control Process
Thorough Inspections
To begin our commercial pest control process, we start off by performing a thorough inspection of your commercial facility and the surrounding property. By performing this inspection, it allows us to determine the pest pressures you're dealing with as well as areas that could become problematic in the future.
Customized Treatment Options
After the initial inspection, we'll develop a customized plan to meet your business's specific pest control needs. When treating your business, we'll begin by taking the necessary steps to get any current pest infestations under control and then move onto a monthly maintenance plan. This ensures that your property remains completely pest-free.
Through our use of Integrated Pest Management (IPM) methodology, we can ensure that your commercial property becomes pest-free quickly and effectively and stays that way all year round! For more information about what the pest control professionals at Four Seasons Pest Control can offer your business, reach out to us today!
Termite Control & Wood-Destroying Insect Reports For Northeast North Carolina
Due to the temperate climate here in North Carolina, wood-destroying insects thrive all year round in our area, including termites. This fact presents a number of problems for North Carolina homeowners, one of the most pertinent being the expensive structural damages these pests can cause to homes and other wooden structures.
No matter what wood-destroying insect you're up against, the team here at Four Seasons Pest Control can help! We offer a wide range of treatments for termites and other wood-destroying insects like carpenter ants, carpenter bees, and wood-boring beetles as well as wood-destroying insect reports (WDIRs) for real estate.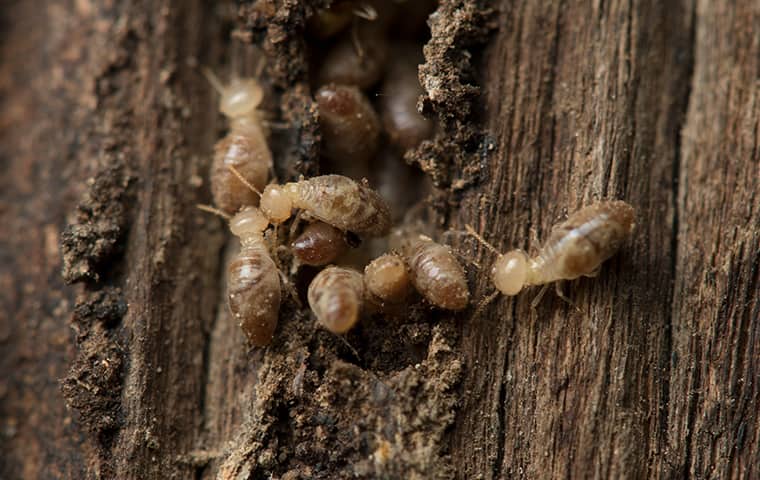 Quality Termite Control Services
Termite Inspections
During our termite inspections, we'll take an in-depth look at your home and property to determine the extent of your infestation. We know what to look for and where to look when inspecting for termites and can get into the hard-to-reach areas of your home or places that you may not know to check to look for signs of termite activity.
Liquid Treatments
Our liquid termite treatment creates a barrier around the perimeter of your home or commercial building. Once crossed, the termite workers will bring the termiticide back to their colony and spread it to the other termite members, eliminating themselves and the entire colony. In addition, we also provide liquid spot treatments, as necessary.
Termite Bait Systems
We also utilize Exterra Bait and Intercept systems in our termite control services. These in-ground bait stations are installed in strategic areas around your property and contain a wooden interceptor that termites prefer to the wood of your home. These stations can be monitored, alerting us when new termite activity occurs.
Termite Warranty
At Four Seasons Pest Control, our termite control services come with a one-year renewable warranty that guarantees a one-year termite-free period. At the end of the year, this service warranty can be renewed after another professional termite inspection has been performed by our highly-trained termite control experts.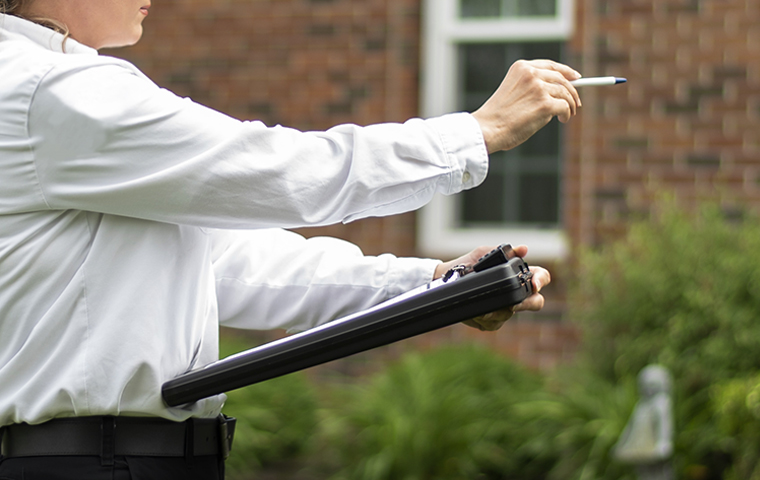 Wood-Destroying Insect Reports (WDIRs)
If you've never heard of a wood-destroying insect report (WDIR), let us give you a brief overview. A WDIR is a written report performed by a qualified pest management professional following an inspection for signs of wood-destroying insect activity or damage. The mortgage lender requires proof that there are no wood-destroying insects (carpenter ants, carpenter bees, wood-boring beetles, termites, etc.) or any water damage in the home. This report is normally required within 30 days of closing.
We also offer professional wood-destroying insect inspections for buying and selling homes. During these inspections, we'll perform a thorough inspection of the home and surrounding property for signs of wood-destroying insect activity and damage. We complete these inspections quickly as not to hold up the process of the sale.
If we find anything during our thorough real estate inspection, you'll be informed quickly and receive all the necessary paperwork. In addition, we'll provide an estimate for any wood-destroying insect or water damage that needs to be repaired. Once your wood-destroying insect report has been completed, our paperwork is typically supplied within 24 hours of completion. We'll even provide an estimate for any repairs needed.
At Four Seasons Pest Control, we can also accommodate weekend requests for your wood-destroying insect inspection, if needed. In addition, if your home or property has damages that need to be repaired, we have a contractor that we can recommend.
At Four Seasons, we'd be happy to help get you on the right track to a termite-free home or to perform your wood-destroying insect inspection. For more information about our professional termite control services or wood-destroying insect reports or to schedule a service for your home or business, contact Four Seasons Pest Control!
Request Your Free Inspection
Complete the form below to schedule your no obligation inspection.