Take Action Against Termites Before They Invade!
With the humid weather here in eastern Virginia, termite infestations aren't so much of a possibility as a probability. Termites thrive all year round in our climate, so taking preventative measures against these wood-destroying insects is one of the best things you can do to protect your biggest investment, your home! However, the problem with termites is that they can invade homes completely unnoticed, then remain hidden within your walls for months or even years, eating away at the structural beams that hold your home together. And the few visual signs of their presence that they leave behind are hard to spot without the proper training. That's why the best way to protect your house against the threat of termites is to prevent them from getting inside in the first place. That's where the Virginia termite control experts at Four Seasons | HomeTown come in!

Whether you suspect that you're already dealing with a current termite problem in your home or you want to take preventative measures to prevent one before they have a chance to invade, we can help! Here at Four Seasons | HomeTown Pest Control, we offer termite control to eliminate existing infestations as well as prevent future ones. If you're located in Chesapeake, Virginia Beach, Suffolk, Portsmouth, Norfolk, or the surrounding areas of southeast Virginia, partner with us for professional termite protection!
Our Quality Termite Control Treatments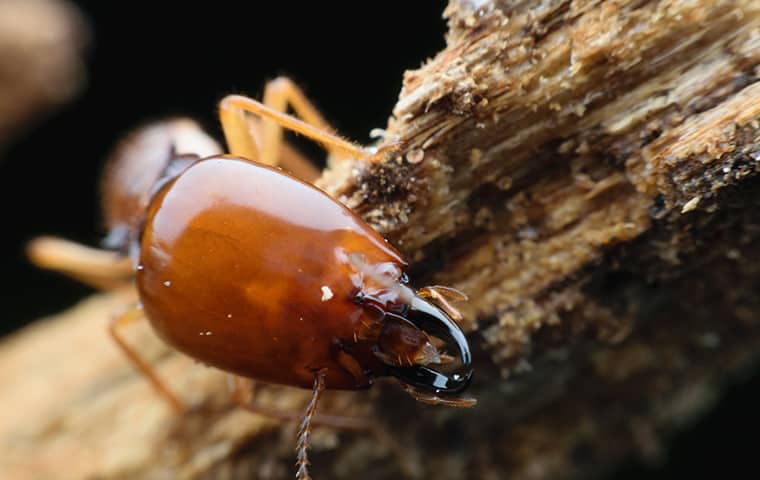 To help homeowners in Norfolk and the Tidewater area of Virginia protect their homes from termite damage, we offer a wide variety of termite control solutions including free inspections, liquid treatments, baiting systems, and more.
Free Termite Inspections
Here at Four Seasons | HomeTown Pest Control, a very important part of our professional termite control services is the initial inspection. These inspections are free and allow us to take an in-depth look at your home and property in order to determine the level of termite activity that you're dealing with.
Our trained service technicians know where to look and what to look for when inspecting for termites. During our free termite inspections, we can get into the hard-to-reach areas of your home such as crawlspaces or places that you may not know to check to look for the subtle signs that termites leave behind.
Professional Termite Treatment Options
Depending on whether or not we find signs of termite activity or damage, we offer two types of termite treatments: liquid treatments and baiting systems.
Liquid Treatments. Our liquid treatment places a barrier around the perimeter of your home or commercial building. Once crossed, the termite workers will bring the termiticide back to their colony, eventually leading to the elimination of the entire termite colony. We also provide liquid spot-treatments, as necessary.
Termite Baiting Systems. At Four Seasons | HomeTown, we utilize Exterra Bait and Intercept systems in our termite control services. These in-ground termite bait stations are installed in strategic areas around the perimeter of your home to create a barrier of termite protection, and if termite activity is detected, they are then stocked with wooden interceptors that termites prefer to the wood of your home. These termite bait stations can be monitored, alerting us when new termite activity occurs on your property.
Out Termite Control Warranty
At Four Seasons | HomeTown Pest Control, our termite control treatments include a one-year renewable warranty that guarantees a one-year termite-free period. At the end of this one-year period, this warranty can be renewed after our termite control experts have performed another professional termite inspection of your home and property. We'll perform this secondary inspection in the second year of service after the customer has confirmed that they wish to renew their termite control warranty.
Protect Your Biggest Investment With Termite Control From Four Seasons | HomeTown!
Termites are one of the most destructive pests in the United States, causing over $5 billion in property damage every year! And although we can take care of termites after they've invaded, it's far more beneficial to prevent them from getting inside and causing expensive damages to your home in the first place. To schedule your free termite inspection and to get started with one of our professional termite control plans in Norfolk, VA, contact Four Seasons | HomeTown Pest Control!
Request Your Free Inspection
Complete the form below to schedule your no obligation inspection.